7 March 2023
Douglas: Our first eco acetate
Behind the scenes with our Product Designer
Meet Callum, our in-house Product and Showroom Designer, here to share his insight into one of our newest styles: Douglas. We sat down with Callum to talk about the inspiration behind our latest frame launch as well as our new Eco acetates.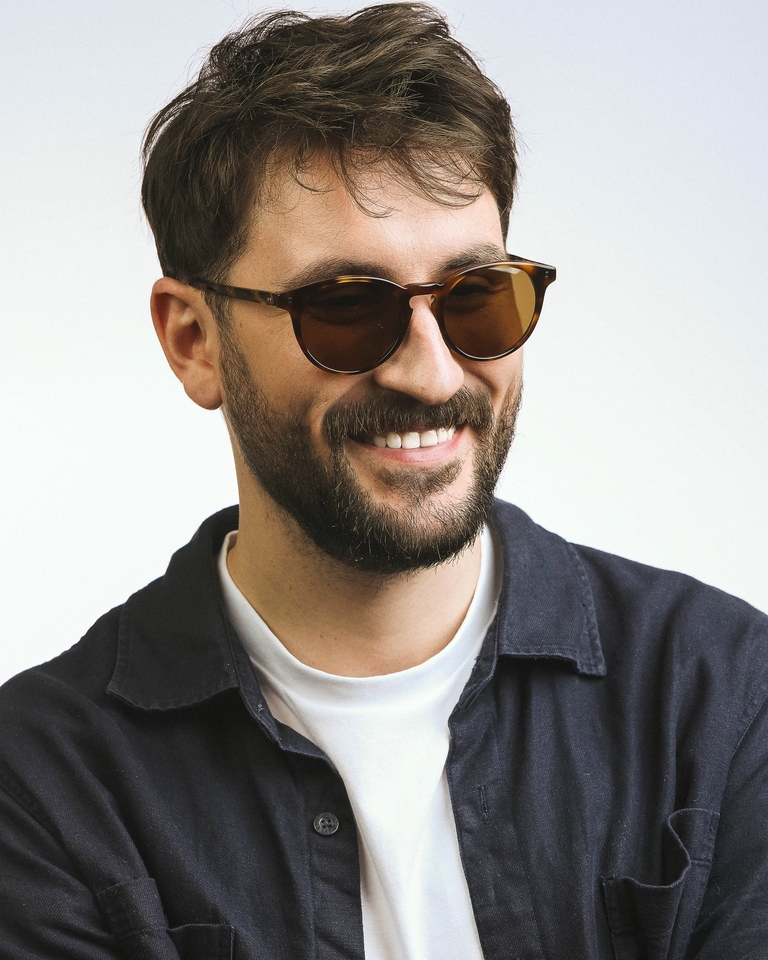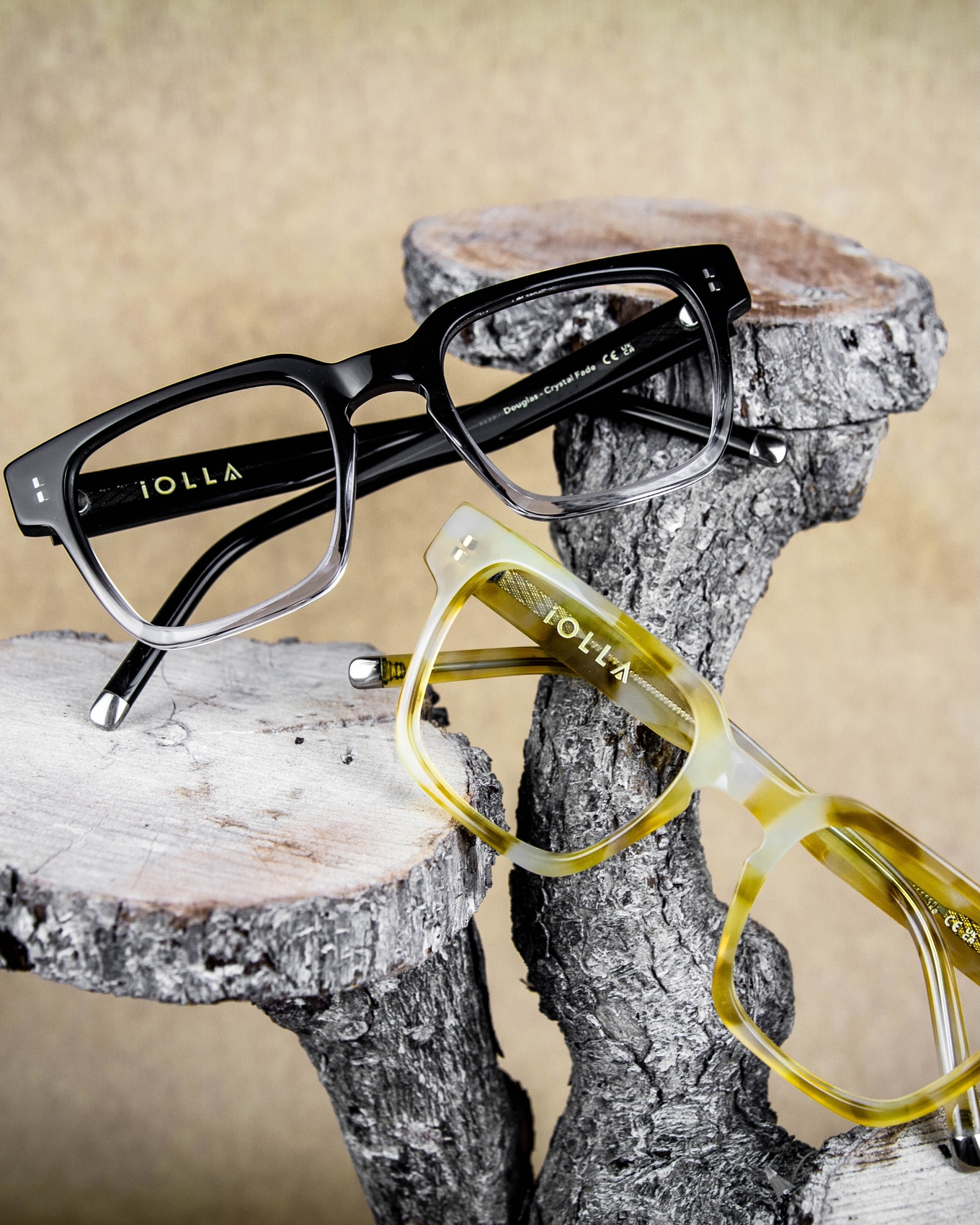 Hey Callum! Tell us a bit about yourself
Since I joined in 2021, I've designed everything from glasses frames to our in-store shelving, getting the incredible chance to see my designs brought to life and of course on your lovely faces. I'm very excited to be here telling you all about our new eco acetates! In my spare time, I'm a big sports fan, the centre of my universe is my one-eyed dog, Edgar (who you may have seen pop up on IOLLA's socials), and, as clichéd as it is, I'm really into my coffee.
I've always been in love with design, I studied Product Design Innovation in IOLLA's hometown of Glasgow and nothing is more exciting than bringing ideas to market. I feel super lucky to work with such an amazing team who make that possible. Team work really does make the dream work in IOLLA, with loads of my work being inspired by my colleagues. Speaking of design, recently we've been working on something really exciting behind the scenes. 
So, what makes an acetate eco?
At IOLLA, our material selection has always been a key consideration when we design our frames. Acetate is a wonderful material providing colour, flexibility and long-term quality. It has been used in the manufacture of eyewear for over 80 years and is derived from cotton and wood pulp.
FUN FACT: We've always believed in taking steps towards sustainability. Currently, all our black acetate frames are produced from 70% recycled acetate, made up of offcuts that are a byproduct of the frame manufacturing process.
As technology has advanced, it has now become possible to produce acetate with some amazing new qualities, like being biodegradable. 
So, where are these new fancy biodegradable acetates you ask? Well, let me take the chance to introduce you to the newest member of the IOLLA collection, Douglas. Available in 4 colours, Douglas is our first frame to feature biodegradable acetates as part of its frame family, with the all new Crystal Fade and Butter Tortoise being made up of the new eco acetate material.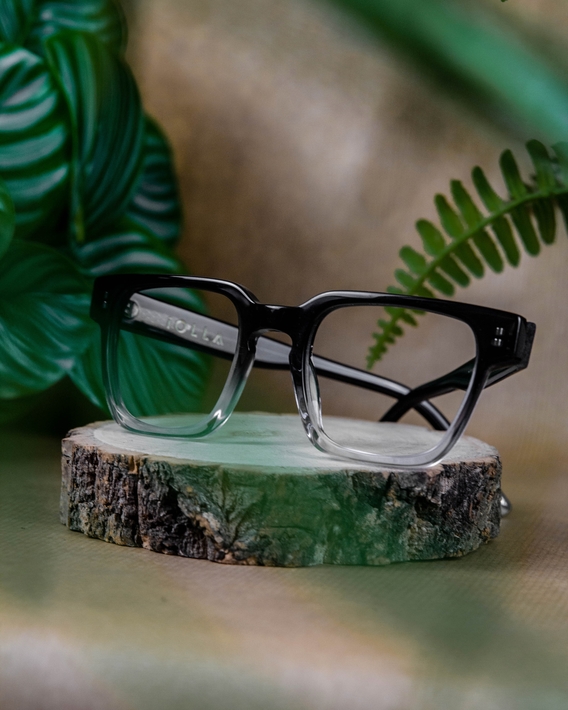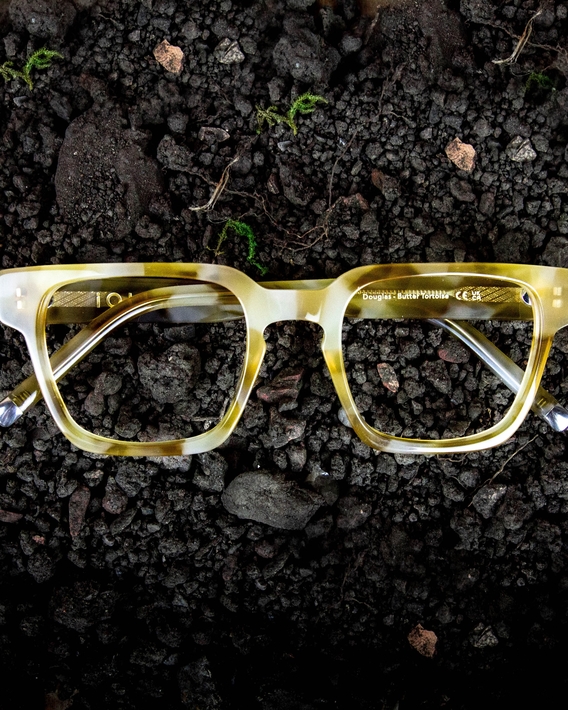 How cool! Can you tell us a bit more about these eco materials?
These amazing new acetates will, under composting conditions, break down over time into organic compounds as they are processed by micro-organisms. They perform exactly the same as our regular acetates meaning you don't have to worry about any sustainability myths like products melting in the rain, for example! They are just as flexible, just as sturdy and just as special. We don't compromise on quality and we're sure you'll agree with us when we say that they look great!
Something that was also important to us was ensuring that these more sustainable products were accessible. One of our mantras is simple, transparent pricing and we've not attached the premium price tag you usually associate with sustainable materials.
"These materials are a small step but one we can make without changing the things that make IOLLA and our frames so great."
So, what's next in IOLLA's Eco future?
Going forward, we're investigating ways in which we can introduce the new materials to more frame families in our collection with the aim of curating a range of acetates that allow us to be more sustainable while keeping our diverse collection... well, diverse! 
"It's our goal that we'll have over 25% of our collection made from recycled or biodegradable acetates by the end of the year"
This is something we've been working towards over the past year. New greens, blues, brights, tortoises and more are in our product pipeline and you'll begin to see these as we begin to explore new colours and patterns in eco acetates.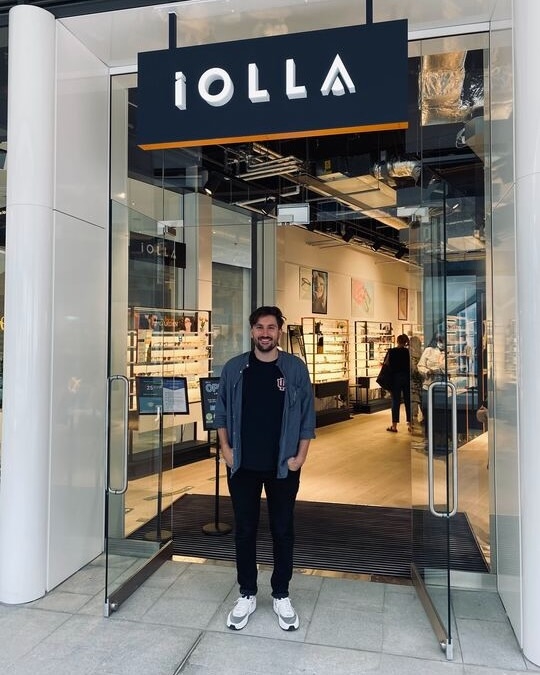 If you've made it this far, thank you! I think you'll agree with me that the new materials and advances represent a really exciting step forward for eco in the world of IOLLA. We can't wait to share all the work we've been doing internally on our journey towards a sustainable future so keep your IOLLA adorned eyes peeled.