10 October 2023
Team IOLLA's eyewear wardrobes
We appreciate how your fashion choices reflect your personal style and show off your individuality, and we want your glasses to accommodate this too. Having your glasses fit seamlessly into your accessory mix and be a fashion choice rather than just necessity. Removing the limitation of extensive cost lets our customers act more freely and be influenced by their style rather than their prescription.
We sat down with our teams to chat about their collection of IOLLAs, the pairs that make up their eyewear wardrobe. A comfy everyday pair, the bolder pair that they bring out for special occasions or the sunnies crucial to those (few and far between) Scottish sunny days!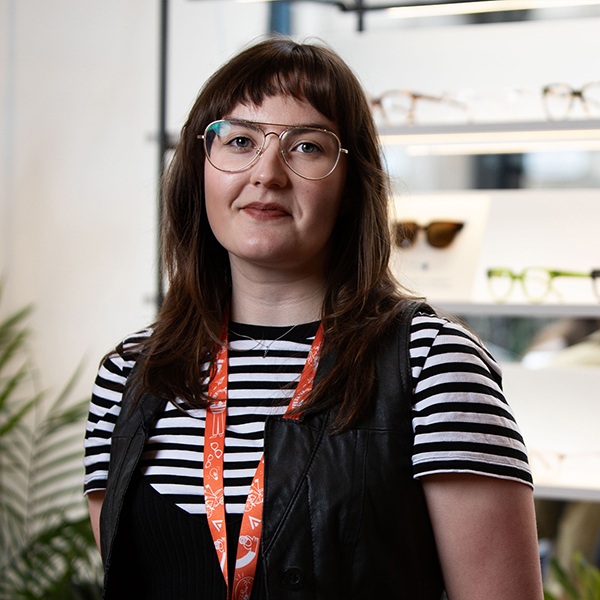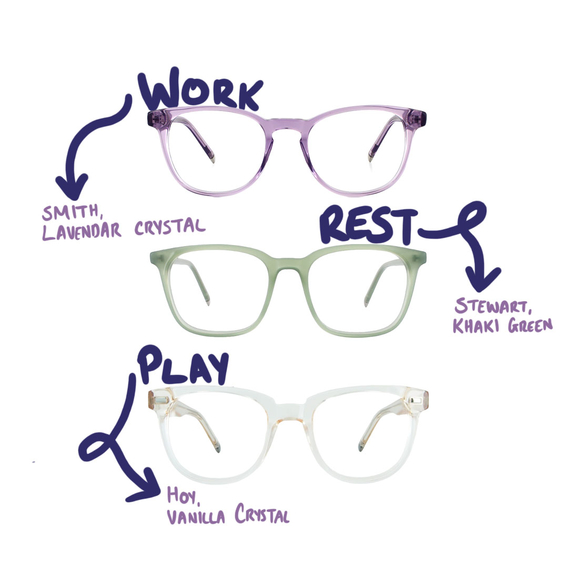 Jayne, Assistant Manager, West George Street
For work, Jayne wears Smith in Lavender Crystal. Purple being her favourite colour, you can quickly understand the choice behind this frame for Jayne. Complimentary to her lilac palette in her wardrobe and an opportunity to chat about her favourite colour when receiving the many compliments this frame attracts. Jayne also wears Stewart in Khaki Green as her day to day pair for relaxing. When it's time to play, Jayne reaches for Hoy in Vanilla Crystal. Why? Jayne's tip is that they're the perfect pair for pictures as it opens up your face.
Emily, Showroom Stylist, West George Street
Next up was fashionista Emily, our showroom stylist who dresses for the occasion everyday. Emily features bright colours and patterns in all she wears and her eyewear wardrobe compliments this style perfectly. For work, when she's not adorning them on our customers, Emily wears her classic Allan's in Rosewood Stripe. For those days when she's searching her wardrobe for something a little lighter, she opts for Scott in Matte Bronze. Emily's most iconic is undoubtedly her Shaw's. When she's having fun, the Orange Crystal Shaw's speak for themselves.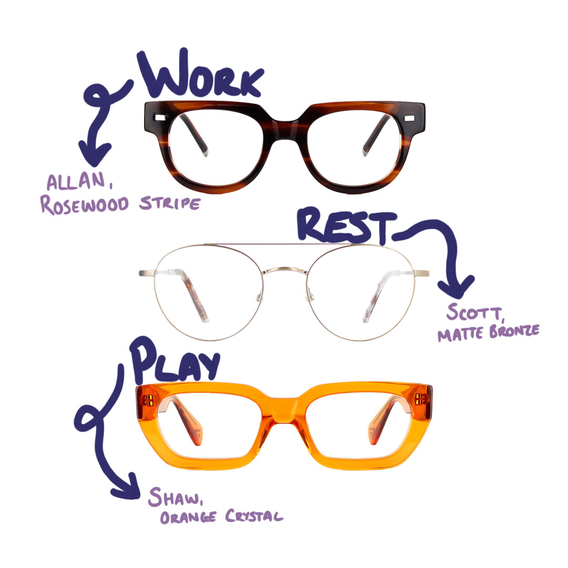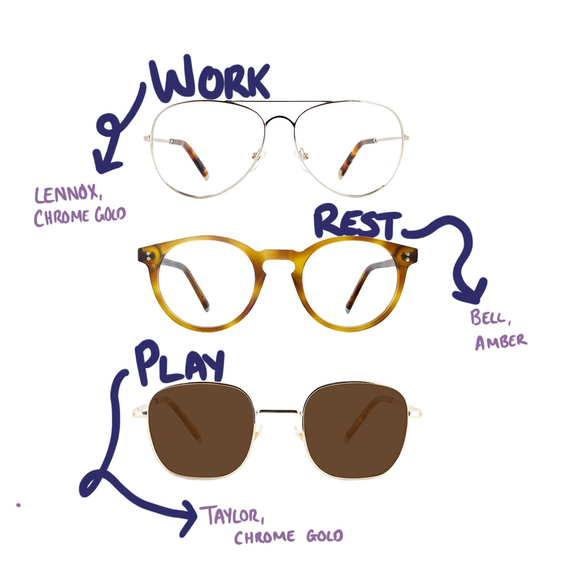 Jane, Supervisor, West George Street
Next on our City Centre roster, we caught up with our store supervisor Jane. Jane's style is totally unique, vintage-inspired and effortlessly cool just like her. First up in complimenting Jane's vintage style is her Lennox in Chrome Gold, a style straight from the 70s that fits seamlessly in today's style. Where comfort is concerned, Jane (like many of our customers) is reaching for the iconic Bell frame in Amber. When it's time to enjoy some sun in Glasgow (pardon the pun), Jane's sunnies of choice are Taylor in Chrome Gold, another nod to a classic vintage style that Jane styles all so well.
Clara, Content Marketer
We left our showroom to speak to Content Marketer, Clara. Clara's signature look is another fan favourite - Bell, where she opts for Vanilla Tortoise. A classic style for Clara is very representative of her effortless style day to day where she seeks comfort in timeless styles and layering. This is further translated in her secondary pair for those more comfortable days - Connolly in Matte Caramel Tortoise. Connolly will carry you from season to season just like Clara's personal wardrobe. When she's seeking a pop of colour, Clara's sunnies of choice are Allan in Olive Crystal - a contemporary green for a classic frame shape.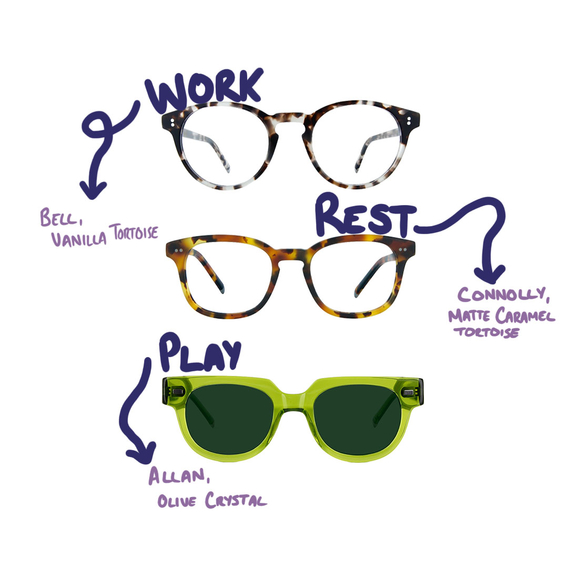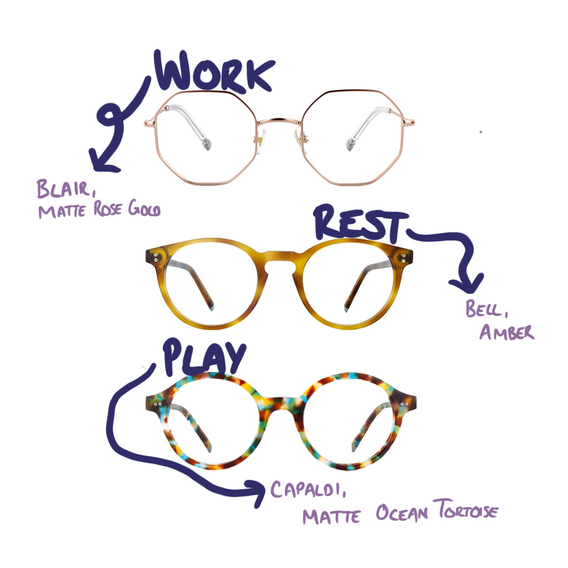 Catriona, Head of Quality and Development
Lastly, we caught up with Catriona. Catriona's first choice was Blair in Matte Rose Gold as it's a subtle frame in an edgy shape. The colour is complimentary to her skin tone so she can feel confident on no-make up days. Next up is the returning favourite, Bell in Amber where the frames effortless style speaks for itself. When she's looking for that bolder, more colourful pair, Catriona goes for Capaldi in Matte Ocean Tortoise. Catriona likes this frame as she says she likes the geeky energy and how fun she feels in them because of how different they are to the rest of her collection. 
What does your eyewear wardrobe say about you?